Spinal decompression is a non-surgical, non-invasive treatment for certain types of chronic back pain. Spinal Decompression works by slowly and gently stretching the spine, taking pressure off compressed discs and vertebrae. Spinal decompression has been used by Chiropractors and Osteopaths for many years because of its good statistical results for long term pain relief. It has been recognized by medical doctors as one of the most effective medical treatments being used. Decompression therapy is an excellent treatment option to avoid surgery. Spinal surgery often has poor results for pain relief and has many risks and complications. It is always better to avoid surgery if at all possible

Spinal Decompression Conditions

The most common spinal condition treated with decompression treatment is aherniated disc. Spinal compression can cause disc herniations to expand, putting pressure on surrounding spinal nerve roots.Decompression treatment takes the pressure off these damaged discs so that the disc bulge will shrink back closer to its original size, greatly reducing associated pain.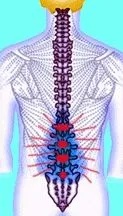 Degenerative disc disease is also a common condition treated with decompression therapy. Loss of disc height can be exacerbated by spinal compression, causing the vertebral bodies to move closer together. This can cause nerve compression and other forms of common back pain. Decompression eliminates the overwhelming pressure on degenerated discs reducing or eliminating painful symptoms.Facet joint syndrome is yet another condition treated with spinal decompression. Of all the conditions, this one shows the least promising results for permanent pain relief. Conceptually, facet syndrome causes pain due to arthritic changes in the vertebral bones. Decompression helps to create more space between the vertebrae, often reducing painful symptoms to a degree, but relief is only temporary at best.

Spinal Decompression Modalities

Cox Technique is a time tested form of decompression used primarily by Chiropractors andOsteopaths since the 1960's. The system was created by Dr. James M. Cox, DC, DACBR and has been used extensively all over the world. Other common names for the treatment include Cox Distraction, Cox Therapy and Cox Decompression.


Cox Technique Indications: Care providers use this particular form of spinal decompression to treat a wide range of problematic conditions including:
*Herniated Discs
*Degenerative Disc Disease
*Facet Syndrome
*Sciatica
*Spondylolisthesis
*Whiplash Injuries
The Cox Technique Form of spinal decompression requires specialized training to maximize health benefits. Care providers must be properly instructed on the principles and techniques involved in successful treatment. Dr. Einertson and the other Chiropractic Associates at Mid America Spine and Rehab have received this training and can maximize treatment results from every session. Chiropractors who have completed advanced training in Cox Technique are Certified Care Providers and can be located in the Medical Professionals lists at the Official Website for the State of Missouri.

Historical Success of Cox Decompression Treatments


Historically, Cox therapy decreased interdiscal pressure and increased the foraminal openings between vertebrae. Patients were instructed to come to therapy sessions more often at the beginning of treatment and frequency decreased as the pain was relieved. 70% of properly treated patients with indicated spinal conditions reported good curative results from Cox.

91% noticed at least some improvement. The average patient will be in treatment for approximately a month and undertake 12 to 15 sessions on the decompression table.

During Cox Decompression Therapy, the doctor will maintain touch contact with your body to concentrate treatment on the area which needs attention. The table is multi adjustable to allow gentle pressure to be applied in a specific path and has a variety of motions available to the care provider to treat virtually any area of the spine.

Recommendation on Cox Technique


Cox Decompression is time tested and well tolerated. It is also available in almost every major medical market on Earth. Cox is generally less expensive than other computerized forms of spinal decompression and might suit the needs of some patients better than other less personal approaches, such as prescription drugs alone. If you suffer from a disc pain or foraminal stenosiscondition, usually requiring back surgery, spinal decompression is probably the very best physical treatment option available to you. Best of all, all forms of noninvasive decompression therapy allow the patient a much needed alternative to radical surgery.

Mechanical Decompression


Mid America Spine and Rehab is also equipped with one of the latest mechanical decompression machines available, and our Professional Staff is trained in its proper use when appropriate to your individual therapy.We also make regular use of other mechanical devices which have been proven effective in minor levels of spinal decompression for many years. If you have further questions about spinal decompression, please feel free to ask.

Pictured, our State of the Art "Mechanical Decompression" Machine